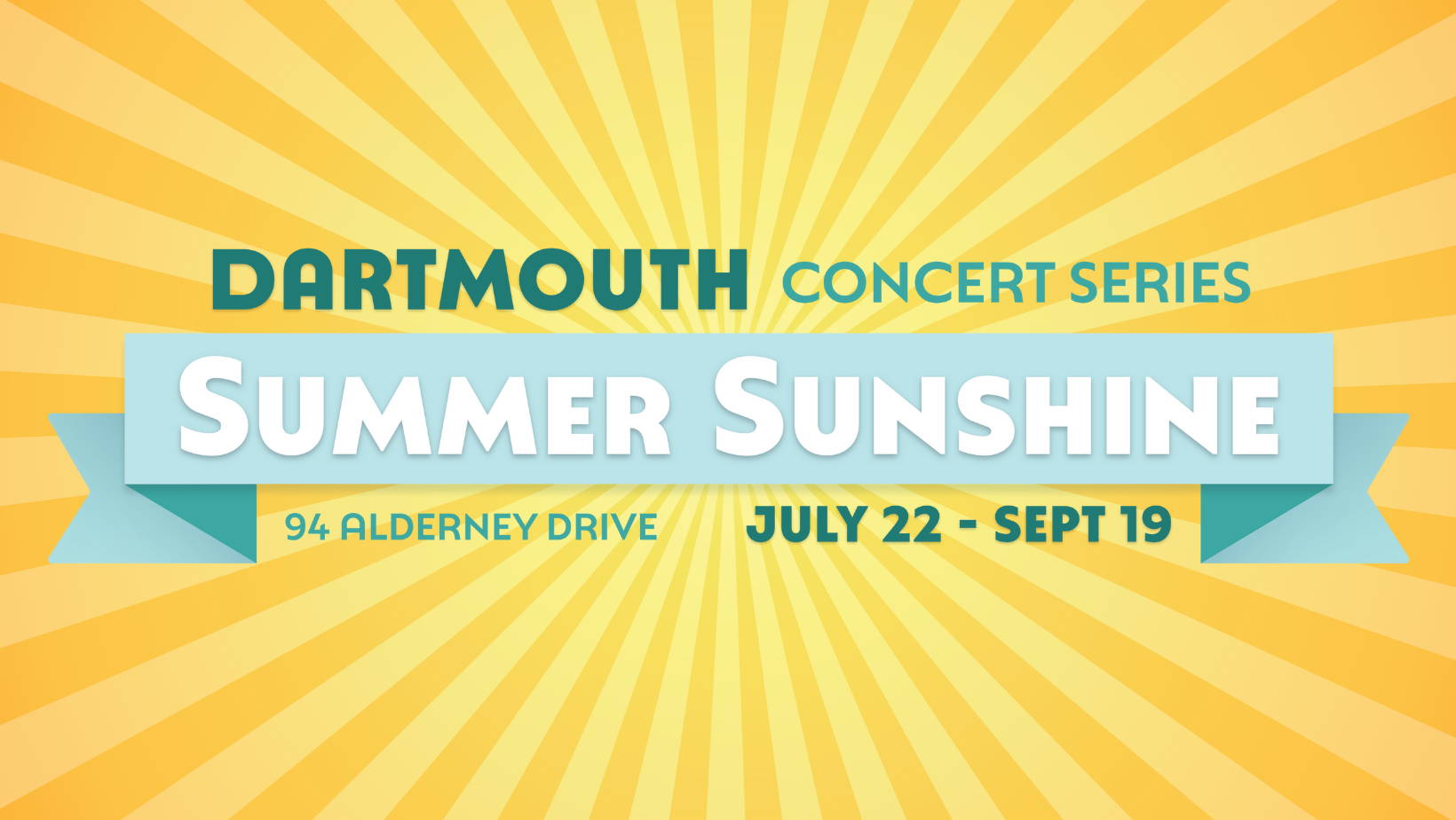 Live music is returning to downtown Dartmouth! The Summer Sunshine Series is bringing local artists for fantastic musical performances and showcase their talents at Ferry Terminal Park (94 Alderney Drive).

The FREE 40-concert series will run from July 22 to September 19 on Thursday, Friday, Saturday evenings and Sunday afternoons.

Check out the line-up for the final weekend below.

Please note that concerts are outdoors. In the event of weather-related cancellations, please check back on this website or visit our downtown Dartmouth social media channels. That decision will be made close to showtime.
Bring your own chair and dress for the weather. Masks are encouraged. There will be hand sanitizer and PPE available.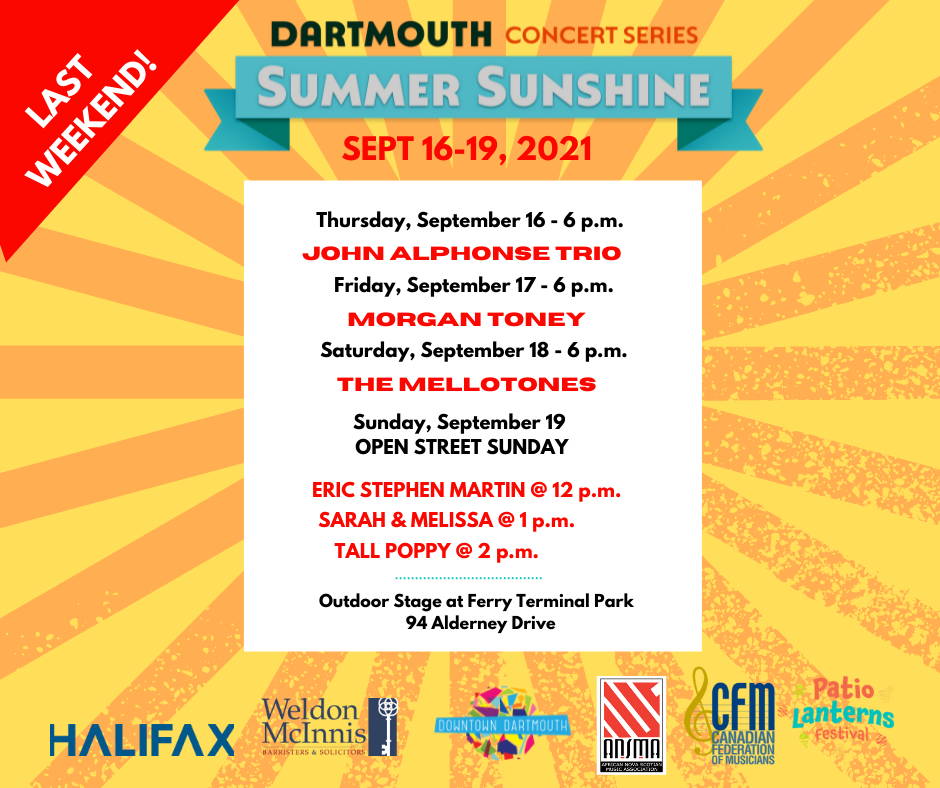 6:00 pm - Kim Dunn Quarte

6:00 pm - The Town Heroes

2:00 pm - Rankin MacInnes

6:00 pm - Doris Mason Quartet

6:00 pm - bSharp ft. Harvi Millar

6:00 pm - The Roving Stationary Steins

2:00 pm - Anna & The Austronauts

1:00 pm - Eric Stephen Martin

2:30 pm
- Morgan Toney

4:30 pm - Jah'mila

6:00 pm - The Mike Cowie Trio

6:00 pm - Christine Campbell

African Nova Scotian Music Association (ANSMA) Showcase

6:10 pm - Natural Talent
7:05 pm - Keonte Beals

6:00 pm - Duo Gatto Dolce

5:30 pm - Carson Downy Band

6:30 pm - Chris Mitchell Quartet

African Nova Scotian Music Association (ANSMA) Showcase

6:10 pm - Jody Upshaw
6:50 pm - Advocates of Truth
7:40 pm - Zamani

2:00 pm - The Urban Surf Kings

6:30 pm to 8:30 pm - Duo Gatto Dolce

6:30 pm to 8:30 pm - quiet hill

6:30 pm to 8:30 pm - Bombadils feat. Ellen Gibling

2:00 pm to 4:00 pm - Shirley Jackson & The Good Rockin' Daddies

ANSMA Freedom Festival Showcase

2:30 pm to 3:00 pm - ANSMA Praise Team
3:30 pm to 4:30 pm - Sanctified Brothers

6:00 pm to 7:00 pm - Reeny Smith
ANSMA Freedom Festival Natal Day Showcase

1:00 pm to 2:00 pm - Joyce Saunders of the Wilderbeats

2:30 pm to 3:10 pm - CFB Halifax Stad-Band

4:10 pm to 4:40 pm - Aquakultre

5:30 pm to 6:00 pm - Jah'mila

6:10 pm to 6:55 pm - Natural Talent

7:05 pm to 7:50 pm - Cyndi Cain
6:30 pm to 8:30 pm -Bill Stevenson Trio
6:30 pm to 8:30 pm - Willie Stratton
2:00 pm to 3:30 pm -
The Brian Hiltz Band
4:30 pm to 5:00 pm - Krisanne Crowell with Solarocity

6:30 pm to 8:30 pm -The Georges Herbert Jazz Trio
6:30 pm to 8:30 pm - Gordon Tucker

6:30 pm to 8:30 pm - David Goyetche

6:30 pm to 8:30 pm - Ced & Marty

2:00 pm to 4:00 pm - Stick & Slide