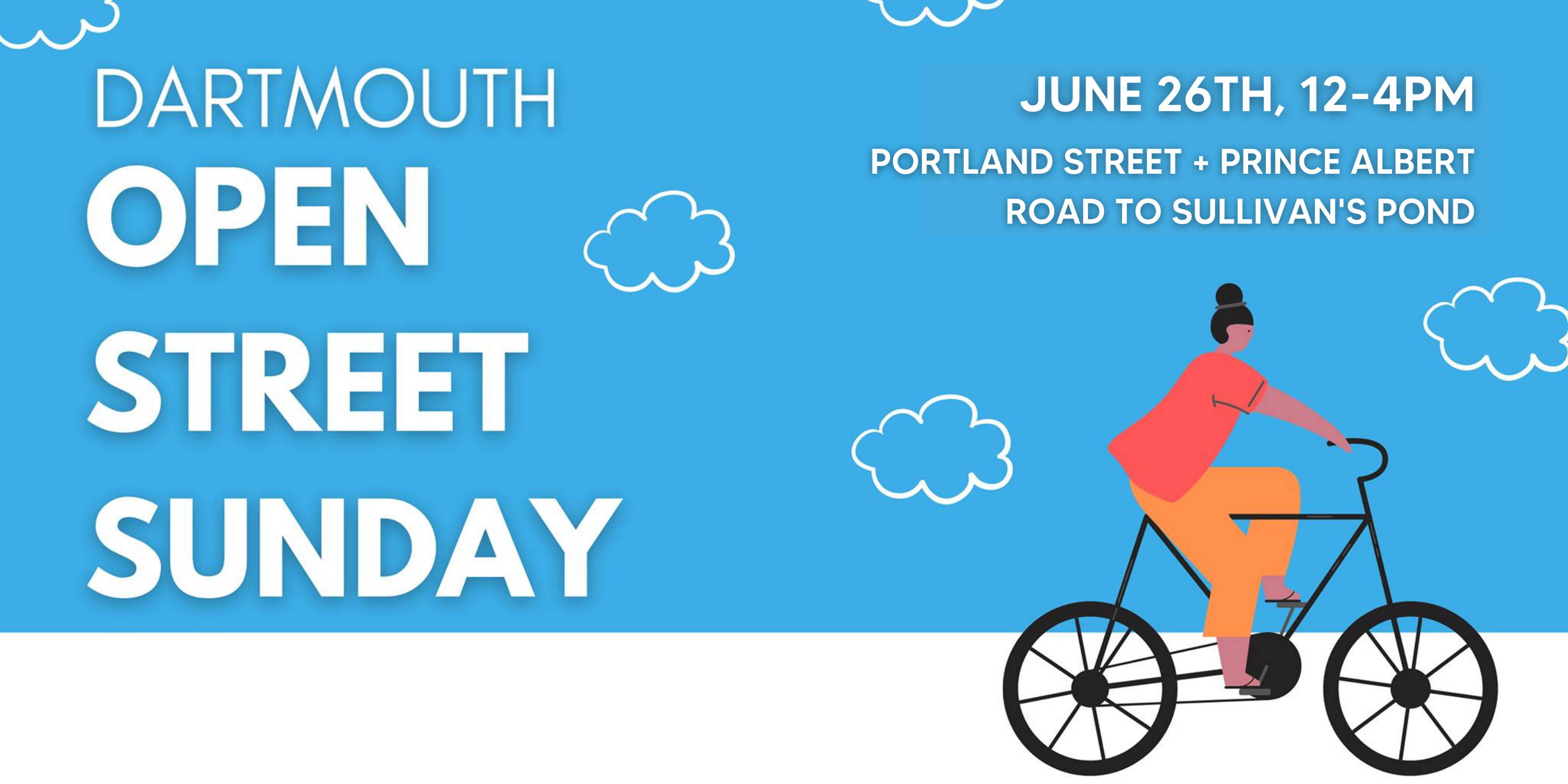 DARTMOUTH OPEN STREET SUNDAY

Downtown Dartmouth is hosting Dartmouth Open Street Sunday on
June 26, 2022
!
We've partnered with Open Streets Halifax and The Planning & Design Centre to bring you an afternoon of FREE fun, including many deals and activations from downtown Dartmouth businesses! See the growing list below. Be sure to check back for updates.
PERFORMING AT SULLIVAN'S POND
Youth Set 12 p.m. - 1 p.m.
MDTM Elite Dancers 1 p.m. - 2 p.m.
Brooklyn Blackmore 2 p.m. - 3 p.m.
Victor Fraser 3 p.m. - 4 p.m.
PERFORMING AT FERRY TERMINAL PARK
Anna Plaskett and the Astronauts 1:30 p.m.
PERFORMING AT FLUME HOUSE
Halifax Highland Dancers 12:30 p.m. - 1:00 p.m.
Yoga Class from The Practice 1:15 p.m. - 1:45 p.m.
Unity Charity Performance 2:15 p.m. - 3:00 p.m.
OUR BUSINESSES & ORGANIZATIONS:
Audrey's Little Shop of Plants

Pop-up terrarium class (outdoors if weather permits, otherwise indoors)
Dartmouth Heritage Museum
Walking the route and handing out brochures and flyers about the museum and their summer camps
Dear Friend,

Oyster bar
Non-alcoholic canned cocktails
Sparkling non-alcoholic drink on tap
Grace United Church

$5/bag! Book sidewalk sale outside church - bring your own bags & wear a mask
Photo booth
Taking mini videos of event
Queensberry Rules Boxing Studio

Kids activities, prize draw, and information about Queensberry Rules!
Radical Concepts Novelty Ltd.

Local tie-dye clothing, ladies' summertime clothing, incense, candles, local jewelry and painted signs, chimes
Room 152

Save the tax
Sidewalk sale rack
Rooted Rose

Sprout Therapy

FREE juice samples
Featured vegan sandwich/smoothie
Staggers Pub & Grub

All ages Drag Extravaganza inside
Whiskey Treats pop-up inside
Lingerie table
Hot dog & sausage cart outside, run by Giggles Hot Dogs
The Dart Gallery

Terri Power jewelry pop-up
Sidewalk chalk art
DRINK SPECIALS: Caesars (clamato, vodka, house-made celery salt, olives & pickles, spices) & the 'Artist Special' (bourbon, sherry, lemon, house-made red currant syrup)
The Tare Shop

Coffee and baked goods for sale
Alben Candles Pop-Up! ( 100% soy wax for a fresh and safe burn. Each scent is inspired by a memory from experiences and moments from the East Coast of Canada.)
The Trainyard

Pop-up with a 2022 Community Partner, Mi'kmawey Debert. Set up in front of The Trainyard to celebrate National Indigenous History Month and share information about their soon-to-be-built Cultural Centre!
Unity Wigs & Hair Services
NOTE: During the event, Portland Street up to Prince Albert Road and Prince Albert Road up to Sullivan's Pond will be open for walking and biking only.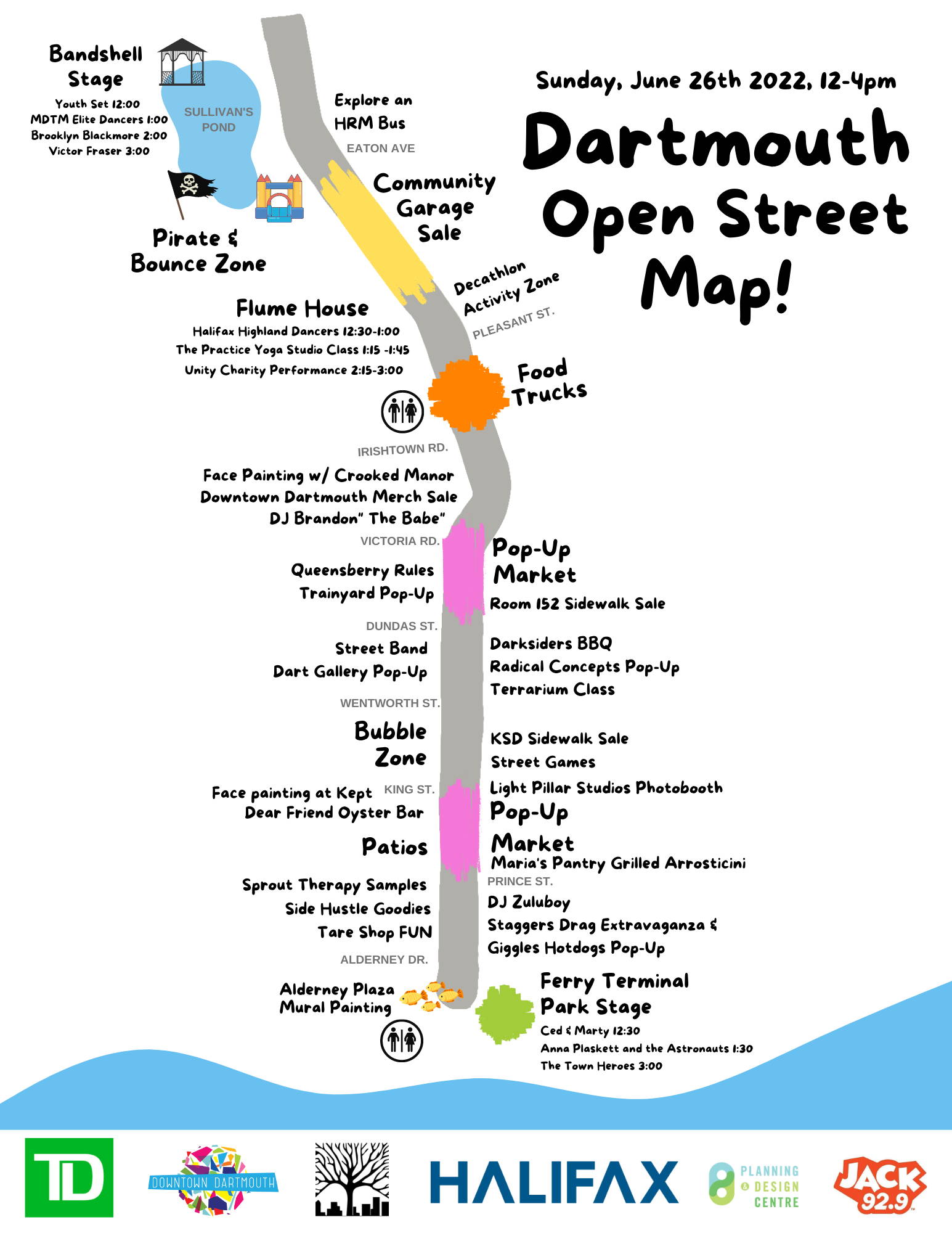 For the latest info, visit the Open Street Sunday event page on Facebook by clicking on the button below.