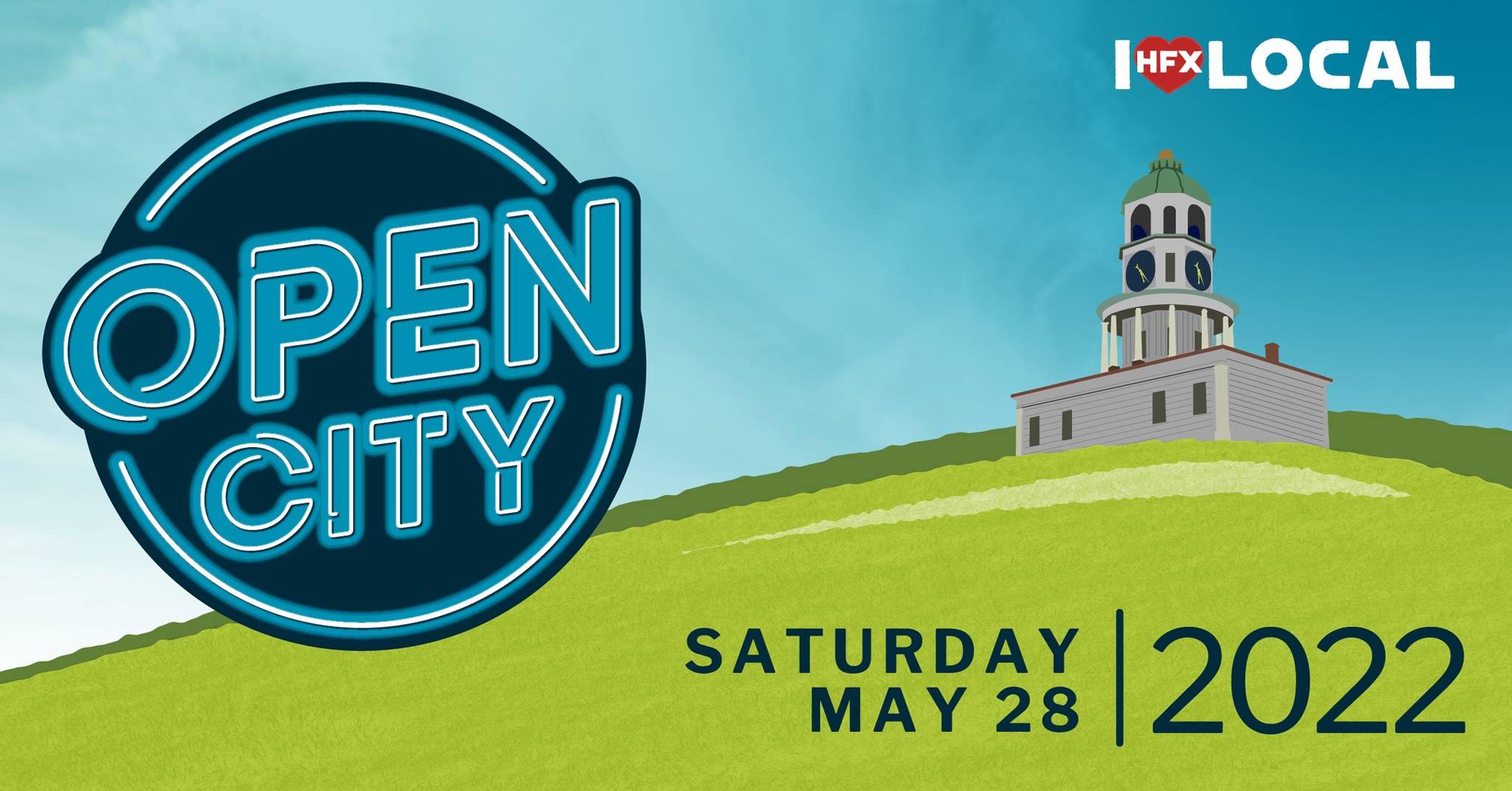 Open City 2022 will be held on Saturday, May 28!
The event, organized by Develop Nova Scotia, is held to promote the entrepreneurs and small local businesses that make our community such a special and vibrant place to be.

We hope you're as excited as we are to see the activations and promos that participating downtown Dartmouth businesses have planned.
Alderney Landing Farmers' Market (2 Ochterloney Street) – 8 a.m. to 1 p.m.
80+ local farmers, artisans, and vendors
Dartmouth Heritage Museum, Quaker House
(57 Ochterloney Street)
Dear Friend Bar
(67 Portland Street)
Special food and drink promotion
Eastern Front Theatre
(2 Ochterloney Street)
– 10 a.m. to 1 p.m.
Free preview of the interactive theatrical installation TO: THE UNKNOWN. This installation encourages audience members to write postcards to people they have never met. Using a system of randomization and guided by a helpful Postmaster and Postal Clerk, audiences will roll a series of dice to find an address among a collection of phone books, then choose and write in a postcard to the person who lives at that address, and finally deposit in our custom-made post-box where it will be mailed to its unknown recipient.
All audience members receive a gift in gratitude for their participation!
Ekko Mindful Music Studio

(12 Wentworth Street)


Sign up for music lessons to receive your first lesson free + a free method book
Gloria's International Grocery Store

(200 Portland Street)
BEING BLACK AND BEAUTIFUL sidewalk sales with KSD and Styles by SD



Halifax Defeat Depression (Ferry Terminal Park)
–
opens at 9:30 a.m.


Walk/run to raise funds for Healthy Minds Cooperative. Register as a participant and take the Trans-Canada Trail from Alderney terminal to Woodside terminal and back.
Kept Gifts and Housewares

(75 King Street)
11 a.m. to 1 p.m. – Local artist Kat Frick Miller painting live in store
3 p.m. to 5 p.m. – Local artist Emma Fitzgerald drawing live in store
KSD Hair and Beauty Supply

(94 Portland Street)
BEING BLACK AND BEAUTIFUL sidewalk sales with GIGS and Styles by SD
20% off all human hair wigs
10% off all synthetic wigs
BOGO on all braiding and crochet hair



MacPhee Centre for Creative Learning (50 Queen Street)
–
11 a.m. to 3 p.m.


Live Djembe drumming (11-1)
Play in our recording studio (1-3)
Create your own art, make buttons, play instruments, plant in our garden, and maybe get some free baked treats!


New Scotland Brewing Co.

(91 Alderney Drive)
– 12 p.m. to 4 p.m.
Happy Hour prices: 15% off all 12oz, 16oz, and beer flights

In honour of the street we've called home for the last four years: Alderney Dry Lager pints for $5, 4-packs for $16
New Scotland Clothing Co.

(16 Portland Street)
– 12 p.m. to 4 p.m.
The soon-to-be new location of New Scotland Brewing Co. will be selling canned beer & free beer samples

20% off all apparel



Portland Street Creperie (55 Portland Street)


$10 Cinnamon Sugar Combo (Cinnamon Sugar Crepe paired with Hot Chocolate); crepe only, $7


Room 152 Clothing Boutique (152 Portland Street)


Save the tax!
Sidewalk sale rack


Sprout Therapy (25 Portland Street)


Vegan, plant-based food specials available!

Stone Pizza

(79 Alderney Drive)


Dill Pickle Pizza special: 8" for $9, 13" for $19
Styles by SD

(162 Portland Street)


BEING BLACK AND BEAUTIFUL sidewalk sales with KSD and GIGS
The Dart Gallery

(127 Portland Street)
– 11:30 a.m. to 2 p.m.
Live music and art demonstrations by artist James Ferris
The Tare Shop (21 Portland Street)


Free tea or coffee with purchase from The Tare Shop

Hosting @TrickDough_HFX doughnut pop-up
The Trainyard (137 Portland Street)
–
11 a.m. to 3 p.m.


Hosting Social Enterprise pop-ups from Hope Blooms Youth Entrepreneurs; businesses include Sugar Slime, Possibili-Tea, and the well-loved Hope Blooms Salad Dressings.
Tic Tac Go Escape Room and Games

(31 Queen Street)
BOGO on all puzzles in-store
15% off all board games and books
Special discount table with amazing products!
Trust Hair Design

(71 Queen Street)
Hair care sale! Up to 50% off select items.
Learn more about Open City by clicking below