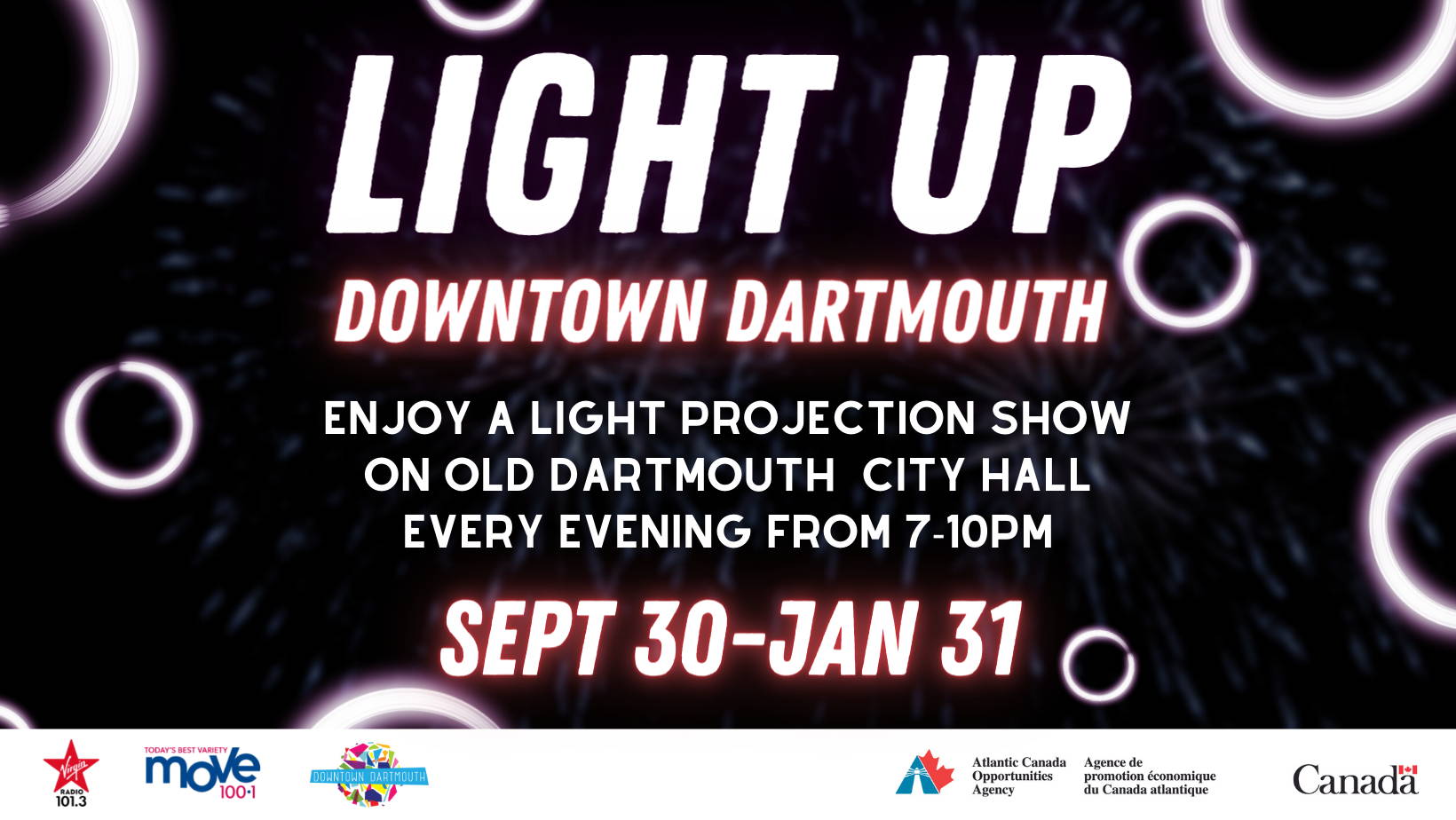 Old Dartmouth City Hall - 90 Alderney Drive
September 30-January 31
7PM-10PM
The Downtown Dartmouth Business Commission is pleased to present Light Up Downtown Dartmouth this Fall & Winter. Beginning this Friday, September 30th and continuing until January 31st, there will be light projections on the side of old Dartmouth City Hall nightly from 7-10pm.
The series commences this Friday with the Artwork of Mi'kmaq artist Alan Syliboy and Video Mapping projectionist, Lukas Pearse in honour and recognition of Truth and Reconciliation Day on September 30th and Treaty Day on October 1st.
The series will continue with shows depicting Autumn, the holidays and winter Show by Artist, Nick Iwaskow and a special Nocturne Exhibit by artist ARNIE GUHA.
The Downtown Dartmouth Business Commission acknowledges that it operates on the traditional and unceded lands of the Mi'kmaq and that we are all Treaty People.
La Commission commerciale du centre-ville de Dartmouth est heureuse de présenter « Light Up Downtown Dartmouth » cet automne et cet hiver. À partir de ce vendredi 30 septembre et jusqu'au 31 janvier, il y aura des projections lumineuses sur le côté de l'ancien hôtel de ville de Dartmouth tous les soirs de 19h à 22h.
La série débute ce vendredi avec l'œuvre d'art de l'artiste Mi'kmaq Alan Syliboy et du projectionniste de Video Mapping, Lukas Pearse, en l'honneur et en reconnaissance de la Journée de la vérité et de la réconciliation le 30 septembre et du Jour du traité le 1er octobre.
La série se poursuivra avec des spectacles illustrant l'automne, les vacances et l'hiver par l'artiste Nick Iwaskow et une exposition nocturne spéciale par l'artiste ARNIE GUHA.
La Downtown Dartmouth Business Commission reconnaît qu'elle opère sur les terres traditionnelles et non cédées des Mi'kmaq et que nous sommes tous des personnes visées par un traité.
This projection show is supported by the Atlantic Canada Opportunities Agency.