NOCTURNE IN DOWNTOWN DARTMOUTH
OCTOBER 13-16, 2021
with LIVE ACTIVATIONS ON SATURDAY, OCTOBER 16 from 6-10 p.m.
Downtown Dartmouth is proud to participate in Nocturne Kjipuktuk/Halifax on October 13-16, 2021.

The map below showcases installations on display in the community as part of our ILLUMINATE series of light installations, all are on display every evening of the festival. There is a special evening of LIVE ACTIVATIONS on Saturday, October 16 from 6 p.m. to 10 p.m.
In addition, there are several official Nocturne projects happening on both sides of the harbour, including downtown Dartmouth.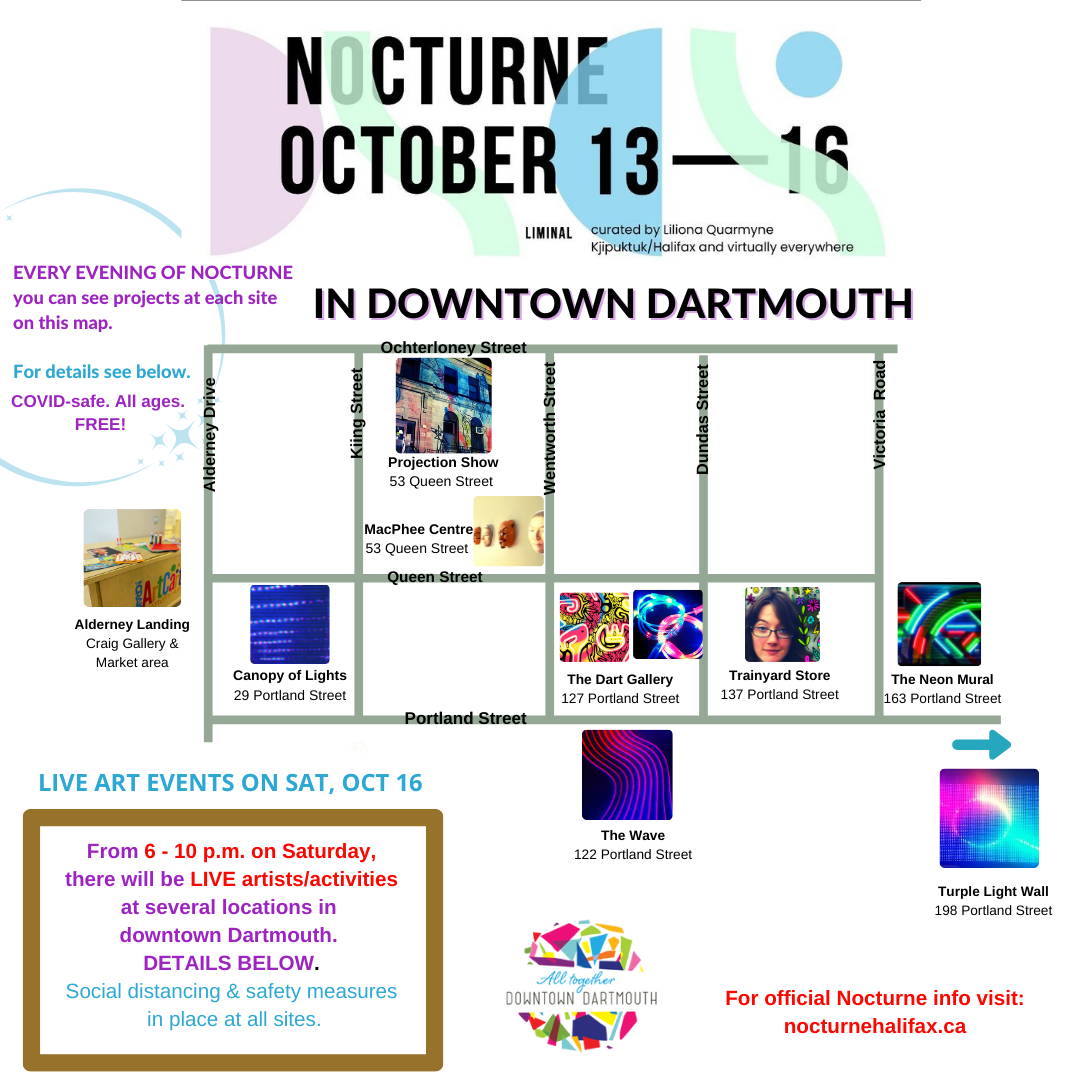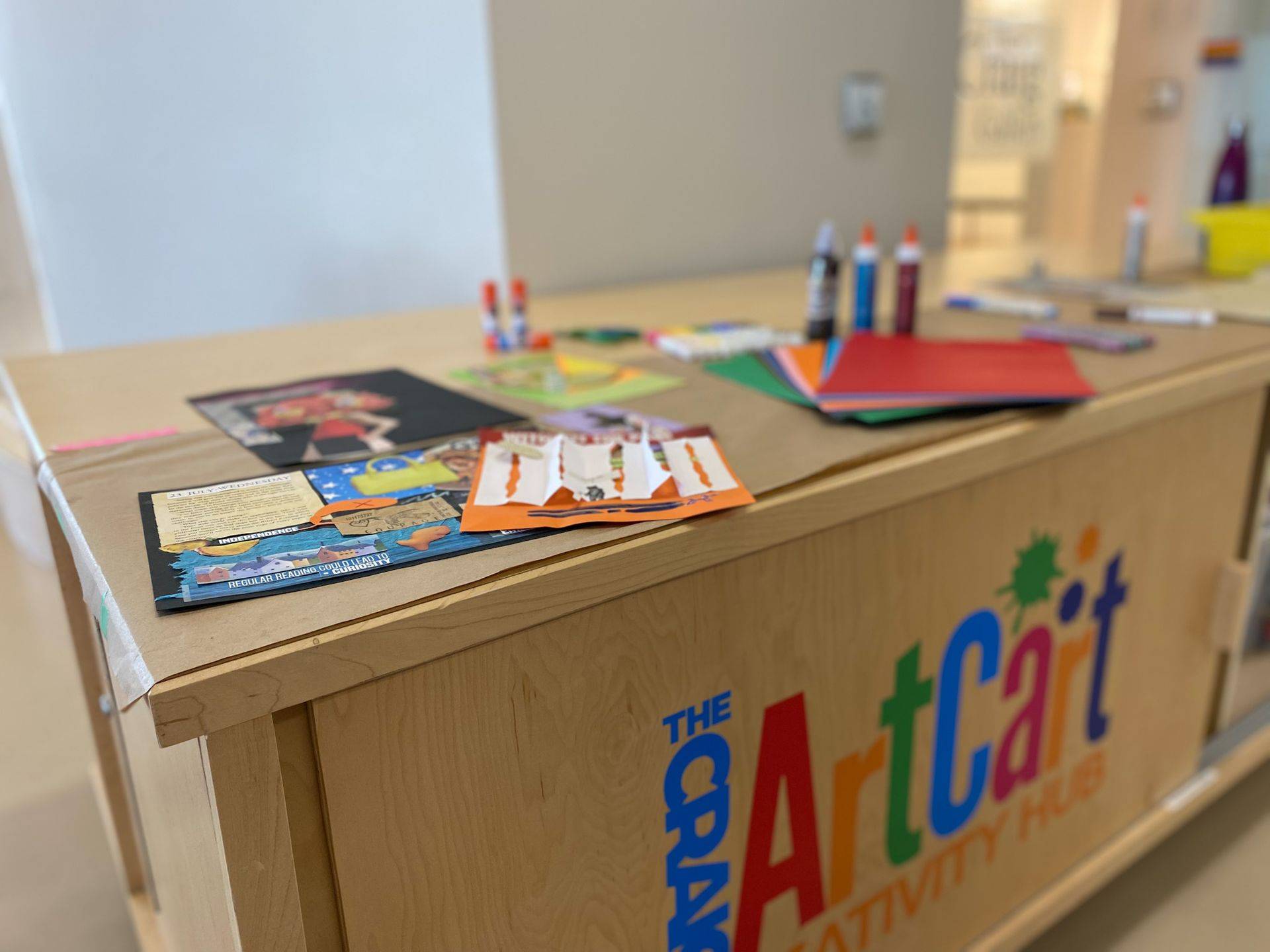 NEW FOR NOCTURNE! ART EVENTS AT ALDERNEY
LANDING
The Craig Gallery at
Alderney Landing
will be open until 10 p.m. on Friday and Saturday for Nocturne featuring mosaics in support of the Canadian Mental Health Association.
The Craig Gallery Art Carts will be out in front of the gallery with free instructor-led activities until 9pm Thursday, Friday, and Saturday.
You can also experience a special Bluenose Ghosts themed "Hand Building with Clay" workshop in the main market area from 6:30pm - 9:30pm Thursday, Friday, and Saturday.
SATURDAY, OCTOBER 16 - LIVE ARTISTS AND EVENTS
There is a special evening of LIVE ART EXPERIENCES on Saturday, October 16 from 6 p.m. to 10 p.m. Experience the following events on Saturday only:
Fire and Light at The Neon Mural. Watch performance artist Jenni Baines a.k.a Lumen Lux offers live fire dancing and fire eating. Shows every hour at 7, 8 and 9 p.m.

Spark of Creativity at The Trainyard General Store. Have your portrait taken, then add your creative touches. The photo will be added to the wall to create a mural in real time.
The Turple Light Wall at 198 Portland Street. Enter a multi-sensory "portal of time travel" created with light and sound. Turple's project Space in Time is enhanced with the addition of music pumped into the lot beside the light wall. The goal is to lure everyone into a trance of joyful dance.
Jump Flip Hop Skip at The Dart Gallery. Watch live jump rope demonstrations and learn a few tricks yourself with LED light-up jump ropes. Demos/lessons at 6:30, 7:30, 8:30 and 9:30 p.m. by artist and professional skipping performer/ instructor Jane MacDougald. (Ropes are santixed between uses.)
Canopy of Light in the alley between Revana Pizza and Brightwood Brewery. Experience an impromptu dance party under the 40-foot light canopy as DJ Sam Eyeland and a light artist collaborate LIVE to create a multi-sensory light and sound experience.
Light Waves at 126 Portland Street. Stop by, relax and enjoy an aquatic soundscape with bubbles. The aim is to create an immersive underwater moment for attendees in front of the shifting light of The Wave mural.
Art Cart and Hand-building with Clay workshop at Alderney Landing until 9 p.m. Get creative with free art materials and demonstrations.
EVAAAC (Electric Vehicle Association of Atlantic Canada)is setting up at the corner of Portland Street and Victoria Road. Get up close and personal with electric vehicles including several models of Tesla. Some of the cars are programmed to put on quite a show! We invited these folks back because they were such a hit with Nocturne attendees in 2019.
NOCTURNE PROJECTS IN DOWNTOWN DARTMOUTH
Special thanks to these folks!