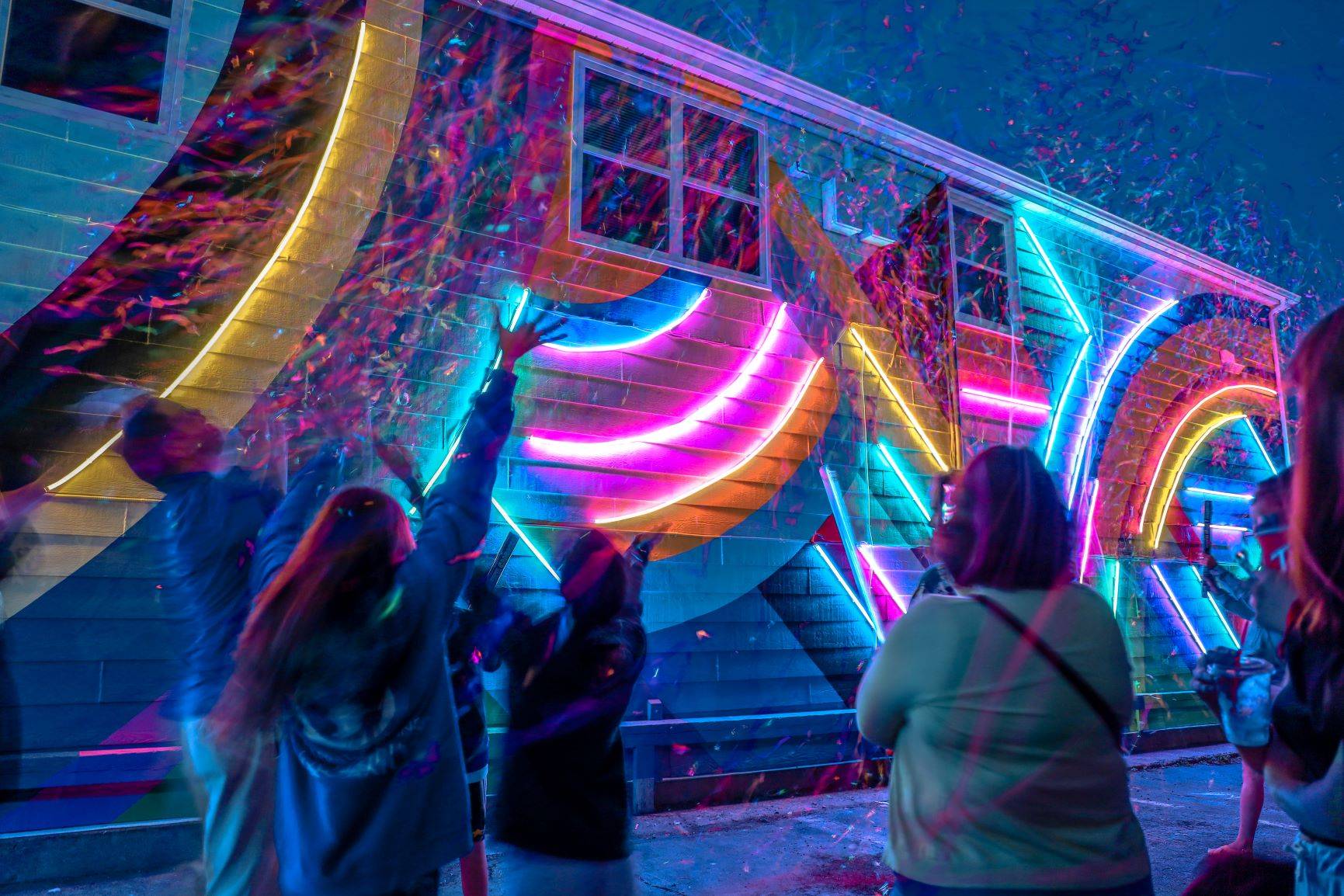 DOWNTOWN DARTMOUTH BUSINESS COMMISSION
The Downtown Dartmouth Business Commission or DDBC is led by a volunteer Board of Directors. The Commission delivers a wide range of programs to promote growth and development in Downtown Dartmouth. The Commission is a conduit for input into Downtown Dartmouth improvement projects. The Commission serves its members through planning, development, coordination, liaison, publications and advocacy.
Our Mission: To champion the vitality of downtown Dartmouth.
Our Vision: Downtown Dartmouth is a vibrant, welcoming and supportive community that maintains its unique character while residents and businesses thrive.
Our Mandate: In order to achieve its mission, the DDBC is mandated with 4 strategic directions:
•Member Capacity Building- facilitating communication among members, mentoring, providing services that have an economic benefit to members, sharing knowledge among members.
•Advocacy- being a collective voice for members on issues of importance.
•Placemaking- undertaking activities that improve the downtown such as streetscaping, making the community clean and safe, engaging in events and art projects.
•Marketing and Branding of Downtown Dartmouth
Our Five Core Values:

Community: The Downtown Dartmouth Business Commission will work collaboratively and respectfully with all members in the community.
Authenticity: The Downtown Dartmouth Business Commission will be an authentic organization focused on supporting the individual characteristics of its members and the community to preserve the small-town feel of Downtown Dartmouth.
Diversity: The Downtown Dartmouth Business Commission will foster a diverse community by welcoming a diversity of ideas, cultures, communities and people to the district.
Entrepreneurial Spirit/Independence: The Downtown Dartmouth Business Commission will reflect the creative, innovative and entrepreneurial spirit of its membership by being adaptive, resourceful and sometimes scrappy to foster the unique character and growth of the district.
Sustainability: The Downtown Dartmouth Business Commission will work with all members in the community with a focus on growing a socially responsible, economically and environmentally sustainable community.
The DDBC actively promotes businesses through social media, print and broadcast communications. The DDBC organizes events year-round to build community and draw people into our business district such as The Downtown Dartmouth Ice Festival, Switch Dartmouth, Nocturne, summer concerts and The Dartmouth Christmas Tree Lighting. We actively work with entrepreneurs and community partners to recruit new businesses. We also work with community partners to attract visitors from other parts of HRM, the Maritimes, Canada and beyond. In the summer months, we staff information kiosks in the ferry terminals to encourage people to spend time in downtown Dartmouth.
Fund Street Beautification and Public Art
The DDBC strives to make our downtown a welcoming and attractive place to do business. We support public art projects downtown such as eye-catching murals, light installations and sculptures. We fund and coordinate picnic tables, pole banners and seasonal decorations. Nearly everyday, you'll find Donald picking up litter on our downtown streets and sidewalks. During the summer months, he's joined by summer student members of our Enviro Team.
Advocate and Lobby for Downtown Dartmouth
The DDBC assumes a leadership role with regard to all issues that impact the future of our community. We serve as the voice of our business district ensuring that the needs and concerns are addressed fairly and promptly. Some of the issues we are actively involved with include community safety, small business concerns, development, social issues, transit, taxation, policing, parking and snow clearing. In the past, we have lobbied to keep important services in our community such as extended Alderney Ferry services and Fire Station 13.
The DDBC offers many services to our members including, but not limited to: access to our boardroom for meetings and access to our tables, tents and coolers for events. We offer regular networking events, professional development workshops, graffiti removal services, bi-annual shredding events and more. We also offer a one-time signage grant to new businesses. All members receive an email newsletter to keep updated on important information.
How do you become a member of DDBC?
If you rent or own commercial property in our catchment area, you are automatically a member. The DDBC is funded through a tax levy assessed on all commercial properties in the district. There are no additional membership fees.

Tim Rissesco – Executive Director
Downtown Dartmouth Business Commission
Tim has led the revitalization of Downtown Dartmouth since 2012 with a focus on attracting new businesses, public art installations and events. He is passionate about downtown Dartmouth, its people and its potential. Tim brings over 20 years of economic development and community building experience to the position. He enjoys working with the community on placemaking projects and events.
Fun fact: Tim collects Dartmouth-themed art. He has over 25 different Dartmouth T-shirts and is always on the lookout for another one.
Why I love Dartmouth: I love the small town feel of Dartmouth, the familiar faces and that everything that I need is within a short walk from home. You can find me most Saturdays at the Market and I am always up for a coffee.
Christine Stokes – Office Manager
Downtown Dartmouth Business Commission
Christine is the person you really need to know at the DDBC. She's the one on the front lines who assists members of our business community with all manner of concerns everyday. Christine handles all of our accounting and other DDBC money matters. She also organizes our monthly Business Links Networking events, the Spring Clean Up, the Community Shredding events and much more.
Fun Fact: Christine has worked in downtown Dartmouth longer than anyone else on the team. She started at the DDBC in 1999.
Why I love Dartmouth: I grew up in Dartmouth, in fact, I've lived here my entire life. I love everything about the place. I've seen many changes over the years, and I believe Dartmouth is getting better all the time. I love that I get to help make a difference in my community every day in the work that I do with the DDBC.
Kate d'Entremont – Communications and Marketing
Downtown Dartmouth Business Commission
Kate's role at the DDBC is to find creative ways to promote and tell the story of downtown Dartmouth. She oversees all of the DDBC's communications, marketing and media relations. She interned with the DDBC in 2019 and fell in love with the welcoming community downtown Dartmouth has to offer. She jumped at the chance to re-join the team.
Fun fact: Kate grew up in Massachusetts and spent her summer's growing up at her family cottage in Savage Harbour, PEI.
Why I love Dartmouth: My favourite part of downtown Dartmouth is the friendly people. Whether it is walking on the sidewalk or shopping at a local business, everyone puts in the effort to make you feel at home.
Shawn Parker – Street Navigator
Downtown Dartmouth Business Commission
Shawn Parker is our Street Navigator in downtown Dartmouth. As you can see from Shawn's incredible smile that he's a genuine person with a gift for helping others. Shawn spends his days reaching out to homeless and street-involved folks in our community. He says listening is his number one job, then connecting folks to what they need, moving obstacles out of the way when necessary. He says the biggest challenging in his work these days is finding people places to live – access to affordable housing is a crisis in HRM.
Shawn divides his time between downtown Dartmouth and North End Halifax.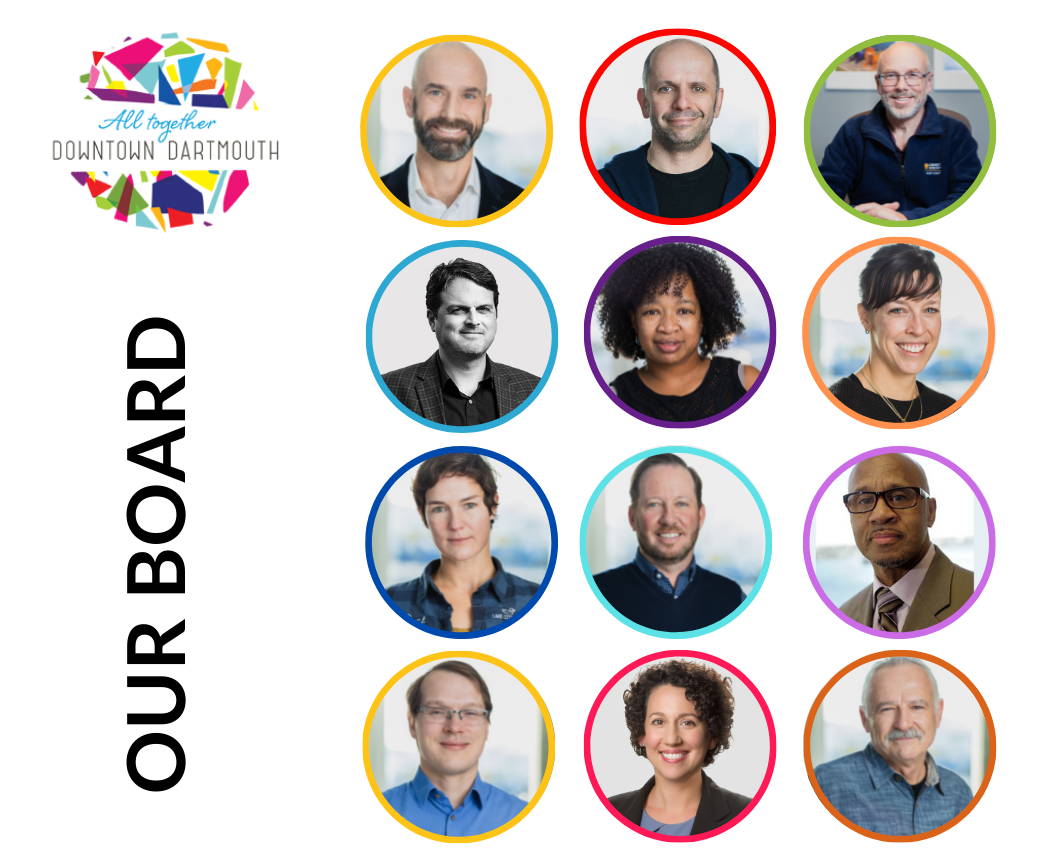 Chair: Anthony Nicholson, Weldon McInnis
Vice-Chair: Matthew Jarsky, Jarsky Architecture & Interior Design
Secretary/Treasurer: Wade Beck, East Cost Credit Union
Julie Houde, Queensberry Rules Boxing Studio
Nadine Sparks, Unity Wigs & Hair Services
Poet MacLean, Lake City Cider
Scott Skinner, Clean Foundation

Joe Zareski; ZZAP Architecture & Planning
Ex-officio Members
Sam Austin, HRM District 5 Councillor
Claudia Chender, MLA Dartmouth South
Terry Drisdelle, Develop Nova Scotia
Rodger Smith, Black Business Initiative

Tim Rissesco, Downtown Dartmouth Business Commission